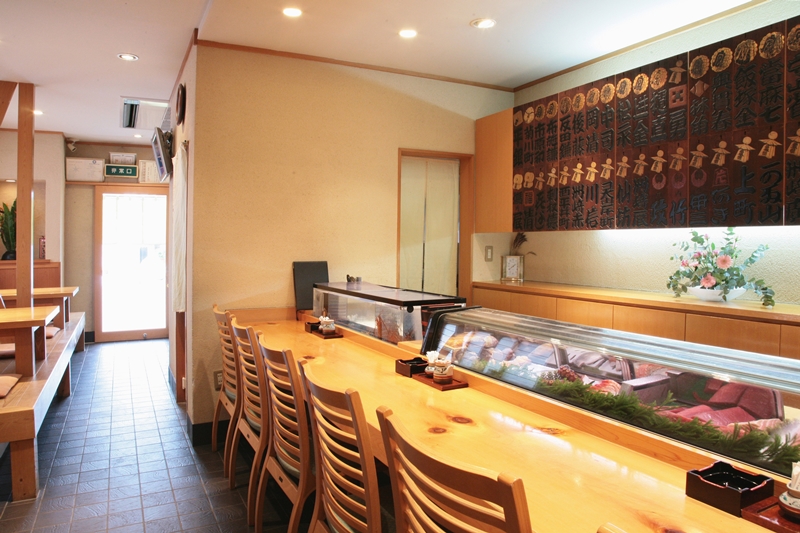 Store name
 Sushi-Naritaya
Street address
 〒299-5234 59-2 Katsuura, Katsuura City, Chiba Prefecture
 TEL : 0470-73-0531
 FAX : 0470-73-9531
In-store seats
 1st floor : 6 seats at the counter
      2 Tables(4~6seats/Table)
      1 private room(4.5 tatami mats)
 2nd floor : 2 rooms(7.5 tatami mats、4.5 tatami mats)

Parking Lot
 Adjacent parking lot 4
 Second parking lot 5
 Municipal free large parking lot(5 minutes on foot)
Business hours : 11:30~14:00  17:00~21:00
Regular holiday : Thursday

We are also open on Thursdays during Golden Week, the Old Bon Festival, and the beginning of the year.
The first Majiro Watanabe founded the Sushi-Naritaya as a Japanese restaurant in Katsuura.
Toshitaka III founded the Sushi-Naritaya (changed from a Japanese restaurant to a sushi restaurant)
Due to the sudden death of Toshitaka III, his wife Yuriko succeeded the Sushi-Narita ya.
Although the restaurant continued to operate, sushi was removed from the menu, and there is an urgent need to revive it as a sushi restaurant.
It was a sushi restaurant with only women (mother and sister).
Takao 4th generation completed his training at Sushi Chu, a famous restaurant in Atami City, and returned to the Sushi-Naritaya to take over the restaurant.
Edomae sushi can be served again.
Takao 4th's younger brother joined the tuna club of Otatsu Fish Co., Ltd., which is a middleman in Tsukiji, to cooperate with the family business.
It has become possible to purchase the finest raw tuna from Tsukiji.
Established Naritaya Co., Ltd.
The Japanese-style room on the first floor was renovated.
Certified as a managed cook
Obtained a national qualification, a cooking skill test, a sushi cooking technician
Received the prefectural firefighting association perfect attendance award
Acquired Kodokan Judo 3rd Dan
Resigned from the Katsuura City Fire Brigade, which was the leader of this division (enrolled for 25 years)
Received the Prefectural Fire Association Chief Achievement Award
40th anniversary of municipal organization Firefighting achievements
Commissioned Chiba Prefecture Food Hygiene Instructor
Appointed as a member of the Katsuura City Fire Department (enrolled for 2 terms and 4 years)
Appointed as an instructor of the Blue Declaration Committee under the jurisdiction of the Mobara Tax Office
Received the Distinguished Service Award from the President of the Prefectural Food Hygiene Association
Received the Katsuura City Tourism Association Director's Achievement Award
Appointed as the head of the Katsuura restaurant union (enrolled for 1 term and 2 years)
Appointed as an accountant of Katsuura City Food Hygiene Association (enrolled for 1 term and 2 years)
Received the facility award (store) from the director of the Prefectural Food Hygiene Association
Appointed as the chairman of the Katsuura Police Station Special Crime Prevention Cooperation Association (2nd term, 4 years)
(Also served as the captain of the special crime prevention patrol)
Chiba Prefectural Crime Prevention Association Liaison Council, Prefectural Police Headquarters Joint Name Received Crime Prevention Achievement Award
Received two letters of appreciation from the Katsuura police chief
Received an outsider commendation from the Chiba Prefectural Police Headquarters
Reappointed as Katsuura City Fire Commissioner